About Stephen Lawrence Mitchell
I am a self taught artist who loves to take pictures and make art out of them I've used a wide variety of mediums and techniques along the way and have settled on digital painting and photo manipulation. My tools include Photoshop, Corel Painter, and a digital tablet with a digital pen.

iLens Artography is part of the iCre8-Group

If you would like to contact me personally please use the provided
e-mail.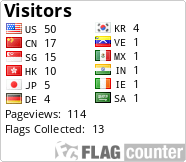 All images Copyright © i-Lens Artography 2005 - 2014. All rights reserved.