Group Administrator
Join Group
Invite Others to Join
Group Overview
This group was started on February 28th, 2014 and currently has:
RSS Feeds
About This Group
(To All Members ) I need each member to visit the discussion boards, and please take note of all of these.
( PLEASE READ )
Changes are going to me made ( I will not be approving one Image/painting/whatever other media you are using until I can get some group feedback here.)
This is Not just a group to sell yourself/work, just to let you know, This is our group and group participation is required to be a member of this group, if not I will be deleting non active members,as you will read in my letter in the discussion pages.
so please drop by, I see over 100 approvals needed but like i have said here, only one person has viewed this discussion page,thus far so please head over to it and read this.
And for Active members I will be viewing your work and approving or rejecting it,In the meantime, but i also need you as well to head over to the boards.
Thank You Very Much Group
Sincerely
~Dave
Hello And Welcome to this group folks, I will be making a few changes to this group and these will start showing up in the very near future i will be replacing the flag counter in the next couple of days and will invite some of my contacts here, to drop by and have a good look at some of the awesome work you people really do here.And i dont say this lightly, you people have some amazing talent and don't ever give up on it it would be a huge mistake.
Sincerely
Our new group Administrator
I look Forward, to working with each of you, as best as I possibly can.
~Dave
I will be working on several Ideas for our group here, so please be patient with me, as I will also bring these forward to each of you before these are done. these Ideas will hopefully get your best work off the ground, and into hospitals, where it really does belong Instead of all these 55 inch huge screen televisions, we currently are only shown in most.
It`s time to bring back Art, to these hospitals. One hospital wall at a time folks.
Images of any media that would be suitable on a hospital wall, pictures for patients stuck in bed, for waiting rooms etc.
Pictures that are beautiful and healing, or something with a lot of detail, where you could find something new every day.
Of course only pictures that are family friendly. No nudes, nothing scary, violent etc. and other editorial pictures, because hospitals are usually public spaces.
Please do not upload more than One image per day, (until i make changes here) I would appreciate if you uploaded 5-10 per week, your very best ones that are suitable for this group.
(NOTE) This 5-10 per week,will only be starting when things change in here
I will only add the featured images to the group, which means I will reject a lot of quite good images, in order to prevent having too many images in the group.
Feel free once the flag counter is going to click on the right hand side of it and it will begin to show you people who are visiting this group and from where this should start happening today.
I have but one rule here, if you're a member you must participate in it, after all you came here for a reason. I will delete non active members and yes, there are times when we cannot be here, this is understandable for sure, but let me know if possible if you wont be here for any extended period of time i'm okay with this, but mandatory participation is required, if we are going to grow this group and get our work out there, and people hospitals will accept your work, but I will get into this at a later time.and give you some valuable info on how to get it there.
Thank You
July 23/2014 The flag counter should be active sometime today so please watch for it
~Thank You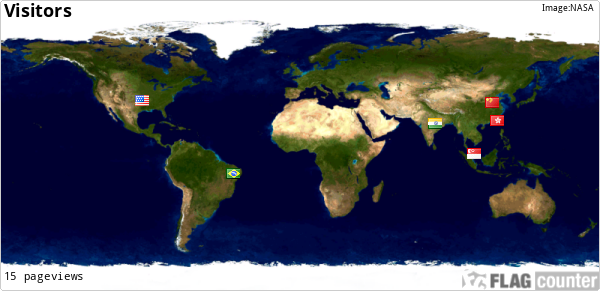 free web counters
Featured Images