About Reid Callaway
HisWorks Photography....

They say a picture is worth a thousand words.... I will therefore, let my work speak for itself. The Bible says, 'Let someone else praise you, and not your own mouth; an outsider, and not your own lips.' Proverbs 27:2.

Thank you for stopping by to view my work and I hope you find something to buy. Thank you in advance for your 'Likes', 'Favorites' and 'Comments'.





I have loved photography for many years and am a self-taught artist. ..... I first got seriously interested in Photography while fighting in the Vietnam War in 1967-68. I captured my time there, in what I'd like to call, a "photographic diary". God put a 'gift' inside of me and it is in the process of coming forth. I pray my love for the outdoors, my unique eye and perspective will help others to see what God in HisWorks has so freely given all of us. "Most people can't see the forest for the trees.' I want people, when they view my images, to see clearer the beauty that is all around us and in the process, to praise God! For it is HisWorks! He has allowed me to become an Award Winning photography in the areas of Animals, Birds, Landscapes, Black and White, Lake Life, Smorgasbord, Butterflies, Action, Digital Darkroom (HDR) and my image 'Sunrise Oak' won 'Best In Show' during a 2012 Juried Photography Contest. May you find something here to beautify your home, office or for someone you love. May the images here bring joy to your heart and pleasure to your eyes for years to come. Thanks for stopping by HisWorks Photography......

The Fine Art America watermark will NOT appear on any of the images you purchase.

Comments, Likes and Favorites are appreciated... :-)

HisWorks Photography....
reid777@att.net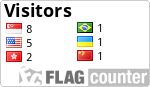 PLEASE NOTE:
All Rights Reserved. All photographs on this web site are fully protected by Canadian, U.S. and international copyright laws.
Copying, altering, displaying, distributing and/or selling any image without the prior written consent of the artist Reid Callaway is strictly prohibited and subject to any and all legal remedies.