About Barbara Stirrup
Hello. I am a New Zealand artist - self taught. I started to be an artist in 1999, and have had successful exhibitions around NZ, at Art Galleries and Cafes.

I am NOT on Facebook : )

When I first started producing art I used ink and pastel, because it was cheapest. Then once I had sold enough pictures, I started to use oil paints. Oil on canvas is what I do most, unless I get a commission for ink and pastel.

I live 850meters above sea level in the South Island of New Zealand - in a lake and mountain zone called St Arnaud. It is a small community of approximately 250 good people.

I love Jesus, God, and the Holy Spirit. Using His gift of creativity is the best way to live.

Sometimes I paint realistic scenes from around the South Island NZ, and sometimes I paint warped scenery with an NZ theme, and sometimes I paint a madeup landscape or waterscape from my imagination, and then sometimes I paint some type of creature, or fish. Really I just paint whatever I feel like, and usually the painting evolves as Im working on it. I stand in front of my blank canvas, ask the Holy Spirit to guide me, and see 'what-happens-next'.

I love being an artist - its the best.

I hope you enjoy the view. Godbless.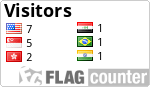 Free counters