Group Administrator
Join Group
Invite Others to Join
Group Overview
This group was started on June 28th, 2012 and currently has:
RSS Feeds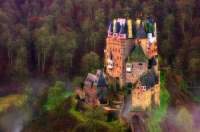 About This Group
Welcome! We are a brand new group dedicated to assisting new talent with editing their artwork in Photoshop. Whether you're new to using the software or have years of experience, we want to hear from you.
I encourage everyone to post artwork, ask questions on the discussion boards, or just stop by to say hello and offer encouragement to those who are new to the digital darkroom.
We look forward to learning about your passion for creating artwork and sincerely hope that together we can take your dreams to a new level.
Additionally, Saturday Skype classes are also available, where I can walk you through your editing issues using the free Skype software. I also offer digital editing services for more problematic situations requiring advanced techniques. Please contact me directly if your interested in either of my personal services.
Pictured: 'Burg Eltz' Munstermaifeld, Germany.